CPM tools and BI: A winning combination
Companies can benefit from further integrating CPM tools and BI, whether they're still evaluating CPM or already use CPM and BI software.
For organizations of all sizes, integrating corporate performance management (CPM) and business intelligence (BI) can have considerable value. With this combination, companies can closely link the creation of budgets and plans with insights from BI analytical tools.
Although companies see merit in CPM-BI adoption, where they are in the process differs. This article explores four use cases -- what you should do if: you have no CPM tools and no BI, you have CPM and no BI, you have BI and no CPM, you have both BI and CPM.
But first, let's look at how BI, and its analytics capabilities, relates to CPM, and its role in helping an organization manage its performance.
All CPM software contains basic BI elements:
Plan initiation process: Here the fundamental question is whether you're headed in the right direction toward a new budget, strategy, etc. Reports and graphics provide the analysis of how a company did last year. What were the growth areas? What were the areas of profitability? BI is very effective here, and combined with a statement of management goals, provides numerous background elements for effective budget creation.
Plan creation: Here, you can use BI to explore how well the budget or strategy is progressing. Where are the major areas of cost? What is the potential for revenue production? How is it beginning to line up with management goals?
Plan review: This represents a more formal set of reports and graphics for top management. Based on analysis of these outputs, top management can call for adjustments to the primary budgets, plans and forecasts as required.
BI tools, which include managed reporting/ad hoc query, dashboards, graphics, scorecards, data visualization and online analytical processing (OLAP), add extra value to CPM:
OLAP: Because OLAP deals with multiple dimensions, it's a great way to "peel the onion" to understand what is happening. As an example, you can review overall costs, cost by region and costs by region by product. Disaggregating results is a good way to understand performance by dimension and subdimension.
Report writing and ad hoc query: These tools are invaluable for understanding performance. CPM software often has these tools; BI tools for report writing and ad hoc query generally are better.
Advanced analytics: BI helps enhance CPM tools with advanced analytics and sophisticated graphics (see the figure below for an example).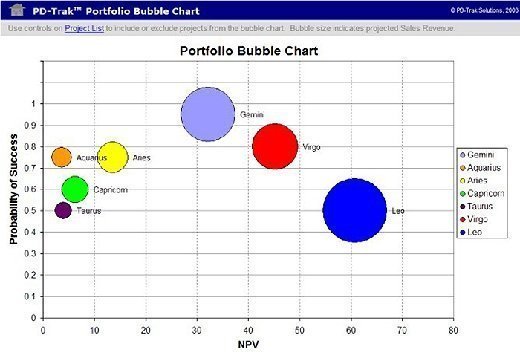 The bubble chart in the figure shows three variables simultaneously. Net Present Value and Probability of Success are on the axes and the size of the bubble represents the cost of a project. The ability to represent three variables on a single chart can be quite valuable. CPM tools often have decent graphics, although BI tools generally are better for graphics.
With this background in mind, let's examine our four use cases:
No CPM and no BI: Well, your analytics cupboard seems pretty bare. From the CPM perspective, can you imagine spending one more year preparing budgets in Excel? For most companies, it's provable that you can deliver more strategic budgets with a CPM package, and save staff costs along the way. Build a business case for CPM.
From a BI perspective, you need to analyze your purchased applications, homegrown applications, and additional data sets that are valuable to the corporation. Examine the added value of having BI for data analysis and management decision making. Note that we are not just discussing BI for CPM here, but BI for all applications and all relevant data sets.
All things being equal, try CPM first. It will help you create budgets and strategies that provide competitive advantage. And, as a bonus, many CPM vendors offer serious BI capabilities that you can leverage across most applications. For advanced BI inside CPM packages, consider the CPM megavendors' offerings (IBM, Oracle, SAP and SAS) and some competent not so "mega" CPM vendors (e.g., Board International, AxiomEPM, Adaptive Insights).
CPM and no BI: As noted above, examine what core BI functionality comes with the existing CPM product. This may allow you to postpone your expenditure for additional BI products. Most CPM products come with decent BI functionality. Other CPM products may require an additional investment for BI.
BI but no CPM: We assume that budgets will continue to be done in Excel but CPM software has many advantages over Excel. You should leverage BI to provide insights on current data that will drive the plan. Then data from Excel must be exported to the BI tool for further analysis. Also, note that without CPM, it's hard to do sophisticated budgeting, planning or forecasting work.
CPM and BI: Use your BI tool to supplement the native BI capabilities in CPM. Note that the data sets in play consist of data input to the CPM tool, work-in-progress and data output from the CPM tool, reflecting budgets, plans, forecasts and strategies under consideration. Leverage the BI tools to gain tactical and strategic insights from the data.
Without a doubt, CPM and BI form a winning combination. CPM provides the ability to deliver superior budgets, plans, forecasts and strategies. BI tools within the CPM software provide a first layer of data analysis and management reporting. BI tools generally are superior to the BI component within CPM software, and can help you perform deeper CPM analysis. BI also has clear value across other data sets in the organization.