How to examine and deploy new WMS technology
Warehouse management systems have evolved over the years. An industry expert offers tips for getting the most out of WMS technology.
The warehouse management system (WMS) market has changed rapidly in recent years and has incorporated many new technologies, features and functions. This article will highlight several areas in which WMS technology has changed, how it can benefit your organization and the best way to deploy the new technology.
Warehouse operators now have many more choices than before in regard to WMS applications and operational trends. The WMS software market has grown to include several new types of supply chain execution (SCE) specific software. SCE software has evolved to include functions as deep as operation management, inventory tracking, resourcing, replenishment, forecasting, RFID and automation for lift trucks, conveyors and robotics.
Expanding WMS options complicates software selection
Back when there were fewer WMS vendors, functionality was limited, but newer systems have very deep functionality. New WMS technology vendors have introduced systems that cover areas that were once not supported by warehouse management systems. More vendors has resulted in multiple players and now the deployment of cloud models and managed services. When selecting a WMS application, organizations must be aware of certain options that cause confusion during WMS deployment, including the depth of functionality as well as aligning system and organizational priorities.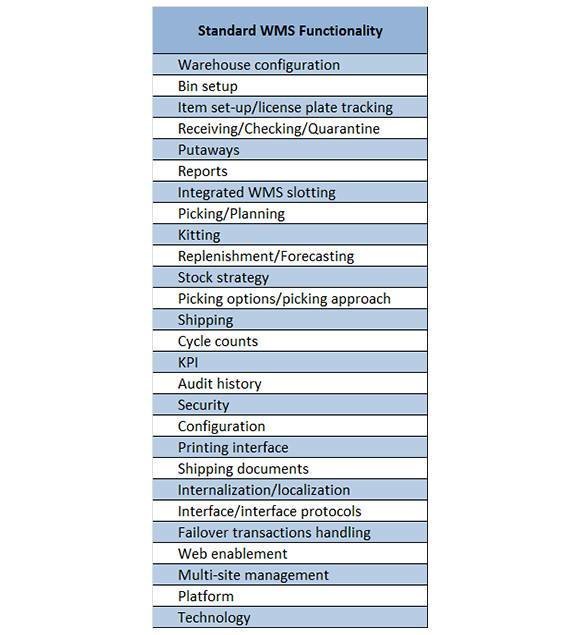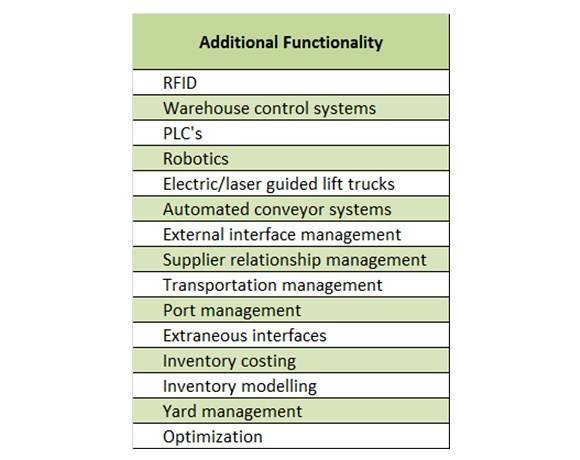 The two charts here define standard WMS functionality and additional WMS functionality. Organizations should examine the depth of functions they require, narrow down vendors that meet approximately 70% of corporate requirements and further whittle down options to create the shortlist from there. The chart with additional functions can help determine what depth of WMS technology is right for the organization and will dictate how much additional money will have to be added to the WMS deployment budget.
Examine agility needed in WMS deployment
Once an organization determines the depth of functionality it needs, it should use a phased approach to decide the required agility and the right WMS application to use. Organizations should identify their most pressing business issues and install those modules first in the WMS application. The amount of functionality deployed is directly related to the amount of time the first phase will take. Once the required modules have been deployed and stabilized and employees are comfortable with the application, then the second phase of the implementation begins.
More on WMS technology
Read about the growing WMS market
Learn WMS integration strategies
Determine the ROI of a WMS upgrade
Organizations should estimate for variances in WMS implementation timetables. If an organization has chosen additional requirements, however, it is best to overestimate the time required, as integrations and automation usually take longer than expected to integrate to the base system. Testing interfaces and data exchange should be checked often from end to end to ensure data and transactional integrity. Once this is done, test the entire workflow process, including the systems, data, agility, automation and exceptions.
Organizations can identify their needs along with additional functionality and create a WMS deployment budget. Keep in mind that the additional functionality can add to the budget quickly. WMS applications have matured and are now often offered as on-premises and cloud options. WMS can also be disguised as supply chain execution software with low-level functionality. So be prepared to closely assess the differences in inventory management software, as there is overlapping functionality and all the features of the WMS may not needed. Extensive testing and a phased approach will allow the organization to succeed in its WMS deployment.
In summary, when deploying the new generation of WMS applications, remember the following:
Determine organizational needs.
Create a shortlist and select solution.
Implement using a phased approach.
Stabilize and make sure staff is comfortable with system before going to phase two.
Implement the second phase with additional modules.
Retest from end to end including interfaces, exceptions, automations, workflows to ensure all systems work together.
About the author
Dylan Persaud is managing director for Eval-Source. His 20 years of IT experience is highlighted with 14 years at enterprise level. Past positions include business systems analyst, implementation lead, project/product manager, enterprise architect, configuration specialist, market analyst and a manager of research, which has allowed him to examine organizations from the ground up and gave him with a high-level overview of the enterprise software market. Working for leading companies such as IBM, IDC, Indigo and TEC, he has focused on how businesses can run more efficiently.
Follow SearchManufacturingERP.com on Twitter: @ManufacturingTT.