Choosing a PLM system for your company? Start with strategy
Knowing the scope of the PLM tool and understanding how the PLM system should be implemented can help you select the best tool for your enterprise.
Selecting a product lifecycle management (PLM) system can be intimidating. How can you make sure that you get the...
Continue Reading This Article
Enjoy this article as well as all of our content, including E-Guides, news, tips and more.
features you need to support your business? How can you be confident that the system you invest in will perform? How can you get started without taking a huge leap of faith? Fortunately, your company is not the first one to walk down this path. There are best practices and decision-making frameworks that you can leverage to get your PLM selection right.
Know what you want from PLM
Too often people want to jump straight to product demos when they start their search for the right PLM system. They want to see for themselves what the software can do for them and what options are on the market. This might work for some software tool selections, but it's a poor way to start with PLM research. This is because PLM software can be used in a variety of ways to improve a range of problems. It's important to know what you want from a PLM system before you start. That's good advice for any enterprise system, but for PLM, it's essential.
Your PLM strategy should identify what role PLM software will play now and in the future. This way, your solution will provide value in the short-term and create a foundation that supports many future initiatives. Our research at Tech-Clarity shows that companies get a positive return on investment from implementing PLM for initial projects, and, over time, get even higher ROI from their successive projects because they are leveraging the initial PLM investment.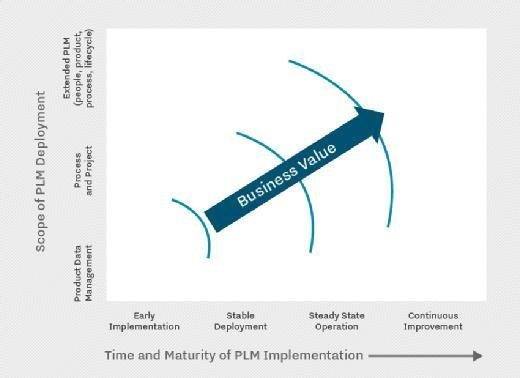 Finding the right PLM partner
Now that you have the strategy, it's time for the demo, right? Not just yet. Given the nature of PLM and how long most companies stick with their solution, it's important to look beyond software capabilities to how vendors work with their customers. Tech-Clarity uses an evaluation framework that consists of four major categories of criteria (see graphic below). Each of these categories includes requirements that are critical during product selection. As Tech-Clarity advises in their product data management (PDM) guide, "product, infrastructure, implementation, service and business requirements all impact the benefits received and the total cost of ownership."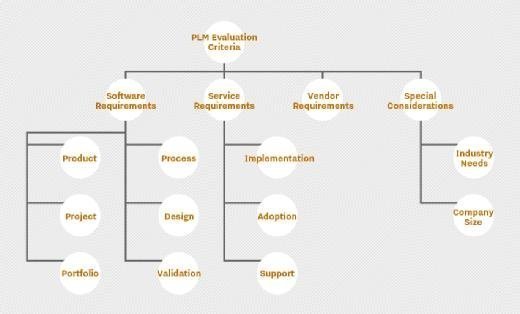 Start with scope
Taking a look at the short- and long-term goals of your strategy should help you identify the scope of the PLM system you need. Areas to consider in PLM software include the ability to:
Manage products and product-related data, including PDM capabilities to control, access and share data
Track and execute product development and engineering projects
Define and optimize product portfolios
Manage and execute business processes, keeping in mind that the processes supported by PLM are expanding
Coordinate and support design efforts ranging from mechanical, electrical and software design to manufacturing operations planning
Ensure designs are validated based on product requirements, including transparency and traceability
You may find that some of these abilities weigh more heavily toward your strategy than others. PLM software vendors vary in strengths and weaknesses; some are strong in certain areas but lack other areas entirely or may rely on a partner for them.
One key question to ask at this point is how integrated you would like your PLM system to be with your design tools. PLM is a critical component in an overall product innovation platform that includes much more than the historic scope of PLM. Depending on your business, you may be looking for tight integration with computer-aided design (CAD). Or, you may be looking for integration with the software development capabilities of an application lifecycle management system. Make sure to understand how vendors integrate their own CAD systems as compared to third-party solutions.
Consider service requirements
Service capabilities are critical to successful PLM software implementations. The requirements will vary based on your company's resources and level of PLM experience, but generally break down into three areas: implementation, adoption and support.
Successful implementation takes into account both technical and non-technical needs. Technical considerations include the infrastructure needed to support the system, including servers, operating systems and more. This is where questions about cloud deployment or Software as a service should be evaluated because they have a significant impact on implementation resource requirements. It's also important to understand how the solution will scale to support the business based on complexity, size and locations. You should analyze how easy the system is to tailor to the unique aspects of your business, and understand whether it requires configuration or whether someone will need to write new software code.
Of course, implementation is more than technical work. It also requires business process evaluation and change management. When procuring a PLM system, it's important to understand who will handle the people- and process-centric parts of the implementation, how much of the work will be done by vendors or by their partners, and the availability of built-in best practices. Finding out who has implemented the system and how can save significant time and money and avoid common project pitfalls.
Beyond implementation is adoption, which includes training and usability. Many vendors offer online training, which can be valuable for globally distributed companies. Some PLM systems require a company to adopt new business processes; if this is the case, make sure there is training for those processes on top of training on the new software. Ease of use is another key aspect to look at. The tech-savviness of users should also factor into your decision. Getting a system that your employees can't use won't help anyone.
Finally, it's important to understand support requirements and determine how the vendor can meet your needs. Make sure to ask the vendor how they support migrations and other custom work. It's important to know if the vendor supports the system in all areas that you operate, too. Support requirements vary significantly by vendor, particularly if you are working with third parties like value-added resellers; make sure you understand who will be supporting you and how.
Know your vendor
Before committing to a product, it's crucial to understand the importance of your company's relationship with the vendor. A vendor's financial position and respect in the market are key aspects to pay attention to. If the vendor offers products outside of PLM software, it's good to note how much development they are investing in their PLM products. An open line of communication between you and the vendor is vital as well. If a vendor is difficult to reach or doesn't listen to your needs, it's not worth partnering with them.
Perhaps the most important thing to understand is how well your potential partner can support the particulars of your business. Are they investing in your industry? Do they support companies of your size? Do they have an active user group that you can participate in? Are they offering the kind of business relationship that your company is comfortable with, for example subscription pricing or floating licenses? The answers to these questions are important to your future satisfaction with the entire experience with the vendor and the benefits you can achieve.
Some special considerations
With every type of software systems there are some unique things to consider. For PLM software, the two that most significantly impact vendor selection are industry and company size. PLM requirements vary for different styles of design and manufacturing. Some PLM vendors do better for companies that mass produce items; some are better for companies that engineer to order; others are tailored to those who have formula-based items or apparel. Look for software that is in tune with the unique aspects of your industry.
Company size also makes a big difference. PLM systems can be scaled up to the largest enterprises or down to the needs of very small companies. Understanding how well your potential partner can support a company of your size is critical.
The best approach to understanding the fit of your vendor with these special considerations is to ask for references similar to your company. You should be able to speak with other customers that are your size and operate in the same industry. Make sure to speak with at least one.
PLM software industry in transition
The PLM industry is in a state of transition. Over the years there have been times when enterprise systems from different vendors were very similar. This may be the case in ERP today, for example, where requirements are relatively mature. But the view on how and in which area PLM should evolve to become the product innovation platform varies among the leading vendors. Tech-Clarity's coverage of strategies of leading PLM vendors dives deep into the visions of top PLM vendors and can provide more insight into your decision making process.
Special note on ERP
If your company has an ERP system, you should understand what PLM capabilities it offers. This is an area for caution, however. It's important to understand the definition and scope of an ERP vendor's offering, which can differ dramatically from the scope addressed by the leading PLM vendors. Keep in mind that PLM is an integrated suite of applications, not just a module in another system.
Leverage the framework
The framework provided above is a great starting place for your evaluation. Of course, you may have needs that aren't on the framework or you may not need it all. Like PLM software, the framework works differently for each enterprise. Whatever your needs, make sure to look beyond the product and make sure you are partnering with someone who can help you succeed.